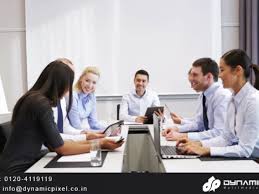 The Information Technology (IT) industry is developing at a quick pace. It requires support by technology as well as training of manpower. E-learning is a concept that aids the industry.
Objectives Behind E-Learning in The Industry
The following are the objectives behind e-learning for IT industry:
To bring teachers and trainees together closer to each other
To provide better access to information: simply log into a training website and access all training material anytime, anywhere.
To adapt to training program, develop own ideas and implement skills in the real world.
To help candidates enhance their knowledge and expand their expertise in the real world thus becoming skilled IT professionals.
Importance Of E-Learning
E-learning has many benefits which makes it suitable for training in IT industry:
In the IT industry, managing time is tough for employees as they are required to stretch their working hours in case, they take up training programs. In case of e-learning, they can sit at home and access training material as per their convenience. This saves a lot of time for IT employees since in comparison, classroom training requires trainees to be physically present in classrooms. Hence e-learning is a time saver as IT employee can be trained anywhere, any time.
IT employees who gain training through e-learning related to their work gain more confidence than others and can perform their job much easier than before. This provides high levels of job satisfaction to employees and prevents them from trying to leave their present occupation for another job. Companies do not wish to lose their employees unless there is a strong reason behind it. Taking on and training new employees (on-boarding) consumes much expenditure and time. Hence, companies promote use of e-learning for employees, so as to retain them and keep them updated with latest technologies. Thus, employee turnover is reduced while encouraging personal growth of employees.
In case an IT company is in the habit of introducing new products ever so often, it is vital that the employees must be aware of these and their finite details. This is where the importance of e-learning becomes evident; the company trains its employees only on the latest service or product developments. Classroom training for this is inconvenient and often, impossible. With regard to updating information on products and services developed by an IT company, the best mode to train employees in new skills is through e-learning.
It is possible for IT employees or the IT organization itself to rate e-learning training that they receive. Criteria to evaluate include observing on-the-job implementation of knowledge that is acquired freshly using scenario-based approaches and simulations, comparing performance of e-learning course before and after training and conducting evaluations for employees of an organization based on online training they gained to assess assimilation of knowledge and skills.
The number of persons opting for e-learning, especially in the IT industry is rising day by day because of above mentioned benefits. E-learning for information technology enables convenience in training. It overcomes boundaries is space, time, and pace of learning. Material for training can be obtained in soft copy. Thus, e-learning can be regarded as most convenient form of training for IT industry.