Today, more and more organizations across the world are using e-learning to train their staff, in an effective manner. Training in any sphere is a prolonged process and e-learning is suitable as only one time investment is needed– e-learning training programs can be used repeatedly to train majority of employees.
 The use of e-learning in various industries is as follows:
The pharmaceutical industry is one of the robust sectors of the economy. Every year, it releases new drugs into the market. The sales staff of the pharma companies needs to be trained on various aspects of these medicines. This can be achieved easily by e-learning. E-learning enables proper training of sales personnel of pharma sector, without disturbing their work as online courses can be referred to anytime and anywhere. The updating of these courses can be done rapidly and easily. This lowers the time gap between launch of medicine and training of sales staff.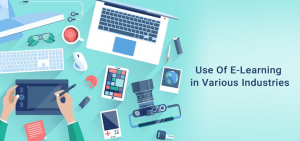 Retail sector is one among the largest of industries. As per some reports, employees of retail sector, contribute around 8% of GDP of the U.S.  The needs of training the diverse workforce of this sector are several, with one of them being excellence in customer service.
Banking and Finance Industry:
It is much recognized that the Banking, Financial services and Insurance (BFSI)sector plays an important role in the economy. This sector requires to continuously train their employees on new financial instruments, new processes, technologies etc. E-learning provides an effective solution to the different challenges of learning like software, process, sales, financial instruments, etc. faced by professionals of the banking and financial sector. It also helps employees of firms in this industry to be equipped with knowledge and skills needed for proficient use of complex software and communication of security or information training.
It is one of the most significant industries of the economy. Firms in this industry are required to train employees in different areas like anti-bribery policy, code of conduct, security of information, safety, GMP's (Good Manufacturing Practices) etc.
Information Technology Industry:
Applications of Information Technology in the global economy are spread across a number of industries. There is a rising demand for new employees who possess basic and transferable I.T. skills and competencies. The I.T. industry in particular needs to upgrade the skill of employees so that they become productive elements of this fast-changing industry. For those who are seeking high demand I. T. occupations, e-learning provides an apt solution. E-learning Information Technology is a useful application.
These are some uses of e-learning in key industries.