There is no doubt in the fact that to master a specific task or a job, an employee needs to hone his technical skills. However, to remain intact in the workplace and ensure success in the long run, the vitality of soft skills can't be questioned. These are intangible interpersonal skills that don't require a piece of specific theoretical knowledge, instead, they are developed over time through proper learning, training, and development. The set of soft skills inculcated in the individual tells how well he can communicate with others, resolve conflicts, work in coordination with others, meet deadlines, and overcome a challenge with a unique perspective.
In this digital era, where everything is easily available and accessible no matter where you reside, strengthening the soft skills of your workforce from anywhere in the world is also not at all a daunting task. The online soft skills course aims to cultivate the soft skills in the employees thus making the skills an intrinsic part of your employees' career development.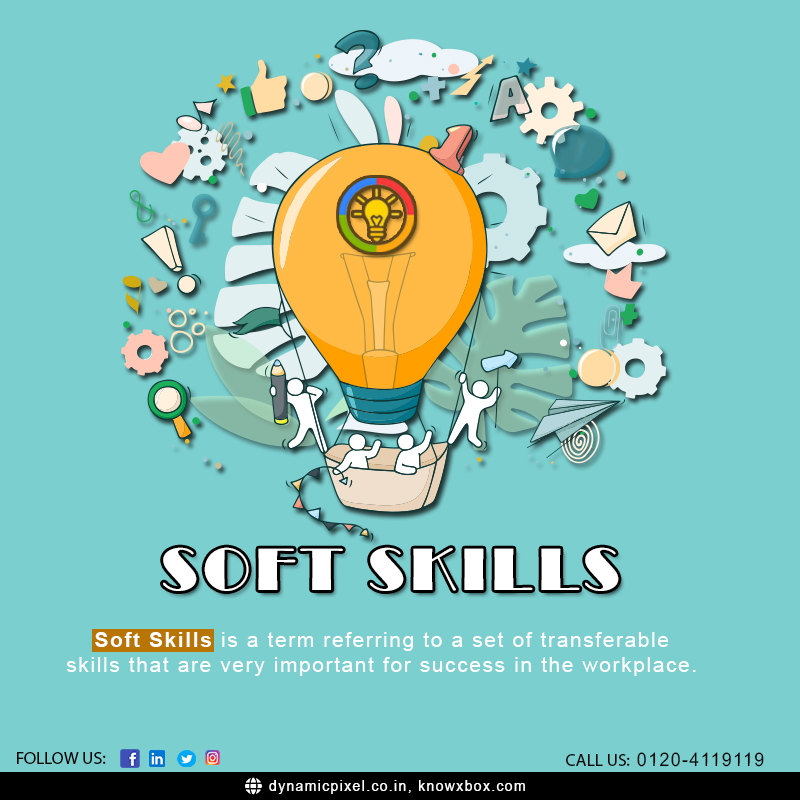 Have a look at some of the soft skills that need to be strengthened through a well-defined soft skills course.
Communication
Teamwork
Time Management
Problem Solving
Leadership
Critical Analysis
Adaptability
Thinking of what a well-defined online soft skills course does encompass? How it aims to foster the above discussed set of soft skills to make the employees more productive? Have a look to know in detail.
Create real scenarios in the virtual world
While imparting online soft skills training to employees, give emphasis on real world scenarios. Through the means of virtual training, they must be taught how to use a specific soft skill in the real world. For instance, to develop the teamwork soft skill; the learner must be presented with a group of members and a specific problem. To solve the same, he must be taught how to carry out the healthy discussion, troubleshoot the issue, and take the lead. Now, this will give them a clear idea of how they can solve real life workplace problems through teamwork.
Such scenarios taught in the virtual world are interactive, engaging, and give the learners an opportunity to explore real world consequences without the risk.
Focus on one soft skill at a time
It is essential to teach the employees a multitude of soft skills for their overall development. However, for optimum results, the instructor needs to be focused on one soft skill at a time. Focusing on a specific soft skill let the learners take no time in understanding and building that skill.
For example, you should carry out short and crisp simulations and training sessions using various online tools so that the employees explore that skill from different angles and perspective.
Customize the content as per the goals of the organization
The effectiveness of the soft skills course depends upon the way it has been structured. This infers that apart from catering the specific needs of the employees, also focus on providing the background information, current position, and future prospects of the company. This will direct the employees on what type of soft skills they need to develop to serve the organization. Customizing the soft skill course content as per the current scenarios will lead to better results.
Employees should be able to access the soft skill course module anytime and anywhere
With everyone becoming digital, there is a mobile device possessed by one and all. This can be smartphones, tablets, or laptops. Therefore, a good soft skill course must be designed and structured in a way that it could be easily accessed on mobile devices. What's a better way than employees acquiring training en route to their work, during their leisure time, or in the night before going to the bed? Accessing the course anytime and anywhere leads to better retention of the course material followed by a highly engaging experience.
Make the Training Measurable
It is true that soft skills can't be measured. But, you need to set the goals so as to measure the employee's performance before and after the training. For instance, present them a task of inducing customers to buy a specific product or avail service through the art of communication skill. After the training, if they are able to accomplish the task; it defines that online soft skill course is a success, else it needs improvement.
Bottom Line 
Now, after you have learnt what does a well-defined online soft skills course is inclusive of, you must learn the real world scenarios effectively through virtual training. Strengthen these skills and let them support your career and open new doors of opportunities.
Looking to enhance soft skills in your workforce? Knowxbox is there to cater you! We incorporate some commonly asked e-learning Off-The-Shelf Behavioral Training Courses which helps you to advance employees' career and upskill your organization as well.