E-learning is the current popular buzz word in education and training sectors. It has caught the imagination of modern learners like nothing else. Adapting technology to the classroom has improved learner engagement and interaction with classroom.
E-learning has invaded all fields. One such area is language teaching. Here, technology has gained prominence and enhanced the modes of learning. Language teachers are increasingly referring to work developed by e-learning content development companies.
For instance there is teaching of English language. Different techniques are being used by teachers like dramatics, commentaries, advertisements, and movie-clippings. These help to make the English lessons more interesting than teaching in the old classroom-text book style. It is also a step ahead of conventional distance learning. Modern e-learning enables interactivity of students, teachers and content.
TEACHING STYLE IN THE PAST:
Language teaching has developed over the past. In the past it was taught as a subject rather than a skill. This method neglected training of oral proficiency of learners. Some traditional methods of learning process are:
Translation and grammar method
Direct method
Bi-lingual method
Structural approach
Audio-lingual method
Training in language communications.
CURRENT TRENDS
Today teachers are recognizing that old methods of teaching are redundant. As per the need of the hour, language teachers get together in seminars and conferences, to get themselves updated in new ideologies and technique of language teaching.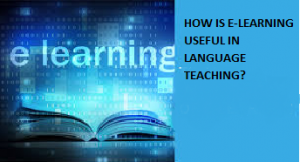 Use of e-learning in language teaching:
Several technological tools are used by capable teachers to enhance teaching and learning. Because of these tools, learning has become interactive, meaningful, stimulating, and interesting for students. These tools have transformed learning and training.
E-learning and the teaching job:
With the new technology, teaching job has become more interesting than ever. Online teaching jobs are becoming popular and teachers with additional e-course certifications have a substantial edge over others.
E-learning overcomes geographical barriers both for teaching and learning a language. To land a language e-learning job, you should have expertise in networking and subject matter.
When the job market is examined, one can see that there are emerging a number of jobs that need e-learning. Big multinational companies, distance education universities, and offices use e-learning modules for training employees. Best e learning companies in India is making use of this opportunity.
In sum, the synergy of teachers and technology helps improve quality of learning and education. Use of e-learning in language teaching is growing popular. Easy access to course content, flexible pace, time and space of study as well as constant feedback are making  language lessons through e-learning more popular.