E-learning is as simple as it sounds. It is learning through the internet! Like e-books, e-learning took is the same thing but with added benefits. There are many institutes, companies and medical centers that are taking support of e-learning platforms to educate students, patients, employees, etc. With just easy access from your phone or laptop, you can educate yourself about several things. Since we are talking about this incredible tool, let's discuss why you should use it and which sectors are benefit through e-learning…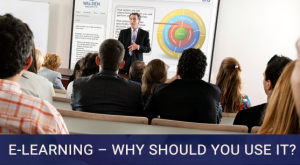 Why you should use it?
E-learning is easy to access and is extremely user-friendly at the same time. Even the non tech savvy crowd can just download an app or an e-book to train themselves about various topics uploaded by the company or center.
You can learn at your own pace and in your own relaxed location. Who wants to run around and go for training programs or presentations all the time? With the help of e-learning, you can sit at home on your sofa and go through the study materials.
Not just time saving but it is also cost-effective for employees, students and doctors as well as for companies, schools and hospitals.
These were just few advantages of e-learning; the list is never ending.
Which sectors are benefitting the most?
The automobile sector can teach their employees about various things without having to actually take them to showrooms or warehouses. Input of videos and animated graphical examples are better than travelling to a site to show employees about a certain automobile part or functioning.
You might not know but the beauty sector is advancing with the help of e-learning. There are countless video blogs and apps that teach you about makeup, skin care, beauty products and much more.
The private sector has been enjoying the perks of e-learning by enabling new employees and staff member to undergo exercises and training through their mobile phones. Companies have also started special gaming sessions to educate the employees about newer business tactics and what is currently going on in the market. This is an incredible way to keep the employees engaged in work and also increase their concentration.
The education sector is opting for instructor LED classroom training as a part of online lectures to help students. This has made the education sector in India more advanced and extremely resourceful.
E-learning is a great way to learn about new things. There will be e-learning solutions in every sector soon.