E-learning is a rapidly changing and evolving field. It is witnessing constant change in technology that enables better interaction between students and teachers in K-12 settings around the world.
If you are part of the educational scene, the following are the trends that are altering the nuances of 21st century education:
Tablet computers are growing popular with educators. Tablets are easy to simple to use and ideal for classrooms, catering to a wide variety of styles of learning. Students can finish assignments, share work with peers and teachers, take notes, read textbooks, blog, write papers etc. Students can also avail of game based e learning.
Teachers also benefit by being able to keep track of progress and evaluate papers using the tablet and saving paper, time and permitting better feedback. Those who are being home schooled may find the gadget valuable because it is powerful and portable.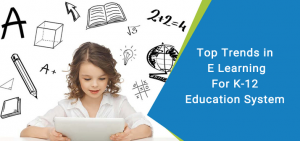 Mobile devices and smart phones:
Gadgets like iPods and smart phones were anathema usually in classrooms but today teachers and students are benefiting from them as cost-effective and interactive tools for learning. These gadgets can be used to stay connected with peers, monitor grades, and even learn new concepts. Experts predict the trend that in the coming few years, there will be an explosion of these devices in the field of e-learning in the classroom.
Monitoring of student progress based on technology:
Online systems for grade-tracking are making it easy for teachers to monitor progress of students, wherever they might be. This new technology is being used by offline and online courses. Tracking technology enables quick grading by teachers and easy communication of progress to anxious parents.
Cloud computing permits easy collaboration on all aspects like home work projects, detailed presentations etc. it also provides access to an extensive range of educational content without requiring students to be on-site. Using a net connection, they can access learning content from anywhere. It is also cost effective, needing less equipment for schools and students.
Educational games have been ideal for students to play in school or home. Today their accessibility and variety is rapidly growing. Students are able to learn while they play and become more interested in subjects like science, history and maths. E-learning is possible at all grade levels when students can access these games from anywhere. Surveys show that over 90% of students play video games and hence the value of educational games.
These are some of the trends in e-learning for K-12 learning solutions. Responsible educators need to keep abreast of these trends.